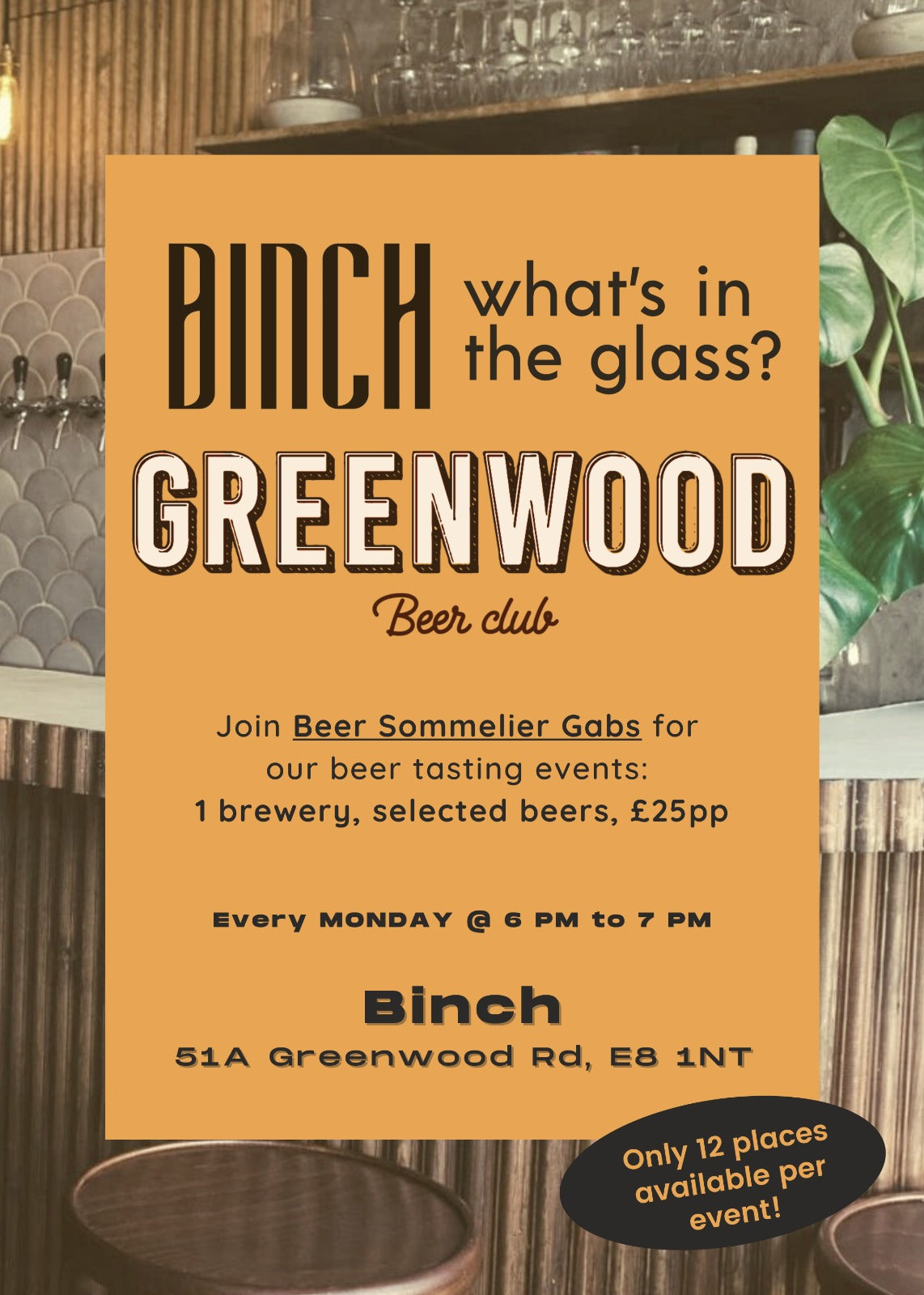 Introducing, THE GREENWOOD BEER CLUB
Presented by 'What's In The Glass?' they will be taking over Binch every Monday evening as our new residency!
Gabs (@cheprish), the Certified Beer Sommelier, will be offering single-brewery-focus beer events in our Bottleshop & Bar.

Every week we'll discover a brand new brewery from the carefully curated selection of craft beers at BINCH.
We have packed so much into this tasting series, expect small-batch brews, seasonal and specials from each independent brewery, as well as digital interviews with their founders and head brewers.

This is the plan:
• From 6:00-6:30pm : A special Digital Beer Stream live via our Facebook and YouTube;
• From 6:40-7:40pm : An hour tutored tasting session with carefully selected beers from the host brewery.
Better yet! These events will be available to attend.
The cost for GREENWOOD BEER CLUB is £25pp excl fee's.
Each event is 12ppl maximum (due to capacity and covid rules)

What will be included;
• Sample four to six beers from the host brewery (with available takeaway discounts for selected products);
• Learn about some of the most prominent craft breweries in London and the UK;
• Receive an introduction to beer's ingredients, beer styles and brewing process.

Tickets are now available for each event - hurry while you can!

This is the calendar:
• Mon 24/05 - INTRODUCTORY EVENT with friends
Mon 7th June : Gravity Well : TICKETS HERE
Mon 14th June : Drop Project : TICKETS HERE
Mon 21st June : Left Handed Giant : TICKETS HERE
Mon 28th June : Three Hills Brewing : TICKETS HERE